Happy Halloween from all of your favorite Disney villains!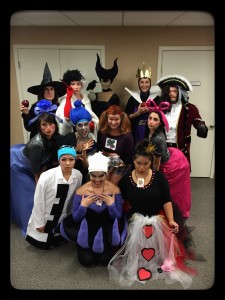 Top row: the Evil Witch from Snow White, Cruella DeVil from 101 Dalmatians, Maleficent from Sleeping Beauty, the Evil Queen from Snow White, Captain Hook from Peter Pan
Middle row: Evil Stepsister from Cinderella, Hades from Hercules, Darla from Finding Nemo, Evil Stepsister from Cinderella
Bottom row: Yzma from the Emeror's New Groove, Ursula from the Little Mermaid, the Queen of Hearts from Alice in Wonderland
For more pictures of our Halloween fun, check out our facebook page! Hope you all had a fun and safe holiday!