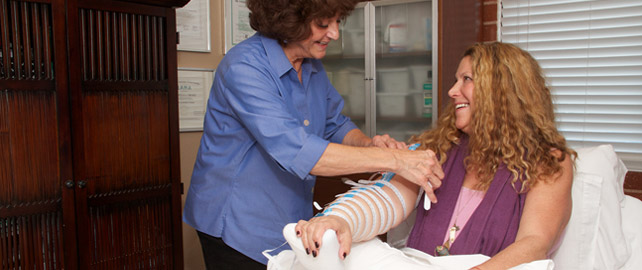 TAG offers custom rehab programs to meet the needs of all cancer patients during their journey through treatment toward survivorship. This includes weight training, aerobic exercise, pilates-based core strengthening, and flexibility exercises. Our goal is to aid in returning patients back to their previous lifestyle or towards new fitness goals.
TAG Physical Therapy also specializes in rehabilitation for breast cancer patients who have faced cancer-related surgeries such as mastectomy, lumpectomy, or lymph node dissection. Our program addresses range of motion limitations, axillary web syndrome, chemotherapy and radiation complications, as well as lymphedema.
What is lymphedema?
Lymphedema is an abnormal swelling of an arm, leg or other body part due to the excessive buildup of a fluid called lymph. Several factors such as surgery, burns (including radiation), severe injuries, or treatment for cancer can lead to the onset of lymphedema; all of these are classified as secondary lymphedema. There is also a large population of patients who suffer from primary lymphedema, which is a congenital condition caused by a deficiency of lymph vessels usually affecting the legs.
More than 2.5 million Americans suffer from lymphedema. In the U.S., breast cancer is the number one culprit in the occurrence of lymphedema. Whenever a part of the body is subjected to a lymph node dissection, e.g., axilla, groin, pelvis, or neck, or when one of these regions is treated by radiation therapy, the flow of lymph fluid through normal channels can become blocked or severely limited. Consequently, protein-rich fluid builds up in the soft tissue under the skin and swelling results, putting the patient at risk for developing chronic lymphedema.
What kind of treatment is available for those affected?
Our comprehensive lymphedema program provides manual lymph drainage, compression bandaging, custom garment fitting, and expertise in home exercise and self-care instruction. Each patient is taught an overview of his or her lymphatic system and how to manually divert blocked fluid away from his or her swollen arm or leg into healthy lymphatic zones. We believe that knowledge is power. Our goal is to enable patients to understand and manage their condition beyond the period of physical therapy treatment.
Our lymphedema program is renowned throughout the South Bay and is staffed with three certified lymphedema therapists who have treated the lymphedema population since the early 1990's, staying current with state-of-the-art treatment protocols.